Berry Cute®
We're sorry, this product is not available. Please shop our top trending products that customers like you have chosen to connect, express and celebrate.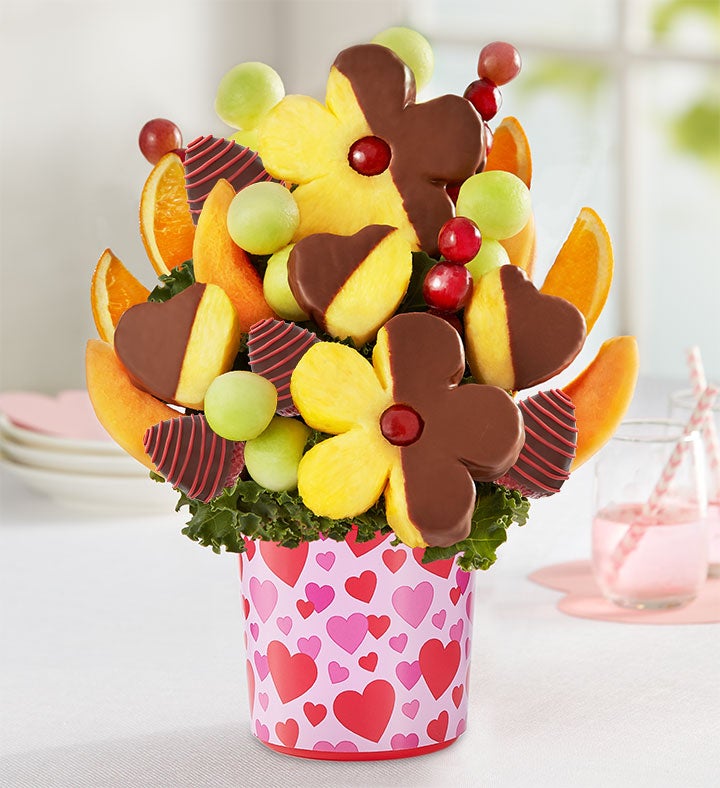 Product Details
:
1010-P-179070
Who knew fruit could be this cute! We've mixed juicy pineapple hearts and daisies with plump, dipped berries and more. Designed in our heart-covered container, it's a "berry" delightful Valentine's surprise. Hint: keep the love coming with a box of our signature strawberries.
Fresh fruit arrangement with mini heart-shaped pineapple slices; daisy-shaped pineapple slices with grape centers; dipped strawberries with red drizzle; honeydew ball & grape skewers; cantaloupe & orange wedges, arranged on a lettuce and kale base
Also available with half-dipped, mini heart-shaped pineapple slices and half-dipped, daisy-shaped pineapple slices with grape centers
All of our dipped fruit is covered in delicious chocolaty confection
Arrives in a reusable "Sweet Hearts of Love" 32 oz. bucket
Fruit is picked at the peak of freshness and delivered fresh to their door
Hand-crafted and designed by local shops
Arrangement measures overall approximately 11"H x 8"W
Serves approximately 9 people; serving size 140 grams
Contains: Milk & Soy. For additional allergy information, click here.
Add to their gift:
12 strawberries dipped in milk and white chocolaty confection and drizzled in milk and red chocolaty confection