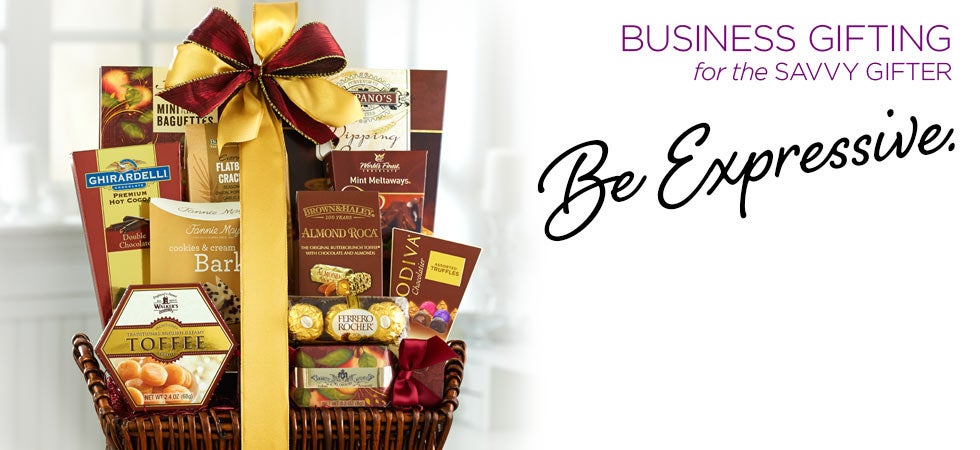 A small gift – a token of appreciation – makes clients and employees feel relevant. These expressions need not be expensive, only genuine. Our hand-made baskets, towers and gifts are crafted with care. Let your actions make an impact that resonates.

Let's add a touch of panache to your client, employee and business relationships together. Call or fill out the form, and let's talk. I'll learn about your gifting needs and will propose an array of tempting gifting. It's that easy.
ORDERS


Send us your gift list; we'll enter your order for you.

LIST HISTORY


Detailed gift list history & address storage

PERSONALIZATION


Add logos, taglines on ribbons or gift tags Custom gift creation

SPECIALS


Shipping options & Cost-savings.

SAMPLES


We'll send samples for your review
Spooky vampire bats lurk behind the castle-like walls of a sinister canvas tote. A macabre, unblinking eye gazes over a hoard of caramel popcorn. A cache of cookies hidden behind a field of pumpkin gumballs lurks just out of sight, filled with sweet rainbow pieces waiting to be found. There these treasures rest, inside Halloween candy bags and among amazing Halloween presents, waiting for their chance to spring out upon the unwitting and to bring forth gales of laughter and shrieks of holiday horror.

These are only some of the Halloween treats that Harry & David presents in delightful trick-or-treat bags, specially chosen to be the perfect Halloween candy gifts. A Halloween treat bag is a sneaky surprise before the long night's trek to collect all the candy, giving the lucky recipient a scrumptious taste of what's to come while also providing a convenient Halloween goodie bag with which to store the evening's collected candy. Each sturdy bag holds just enough sweets to satisfy the ardent candy lover, and there's often plenty of room to add a name or other personalized touch, making it easy to keep track of each bag.

Harry & David has a plethora of unique and charming themed treats, so continue to browse online with us for additional Halloween treat bag ideas.