Happy Birthday Fruit & Sweets Box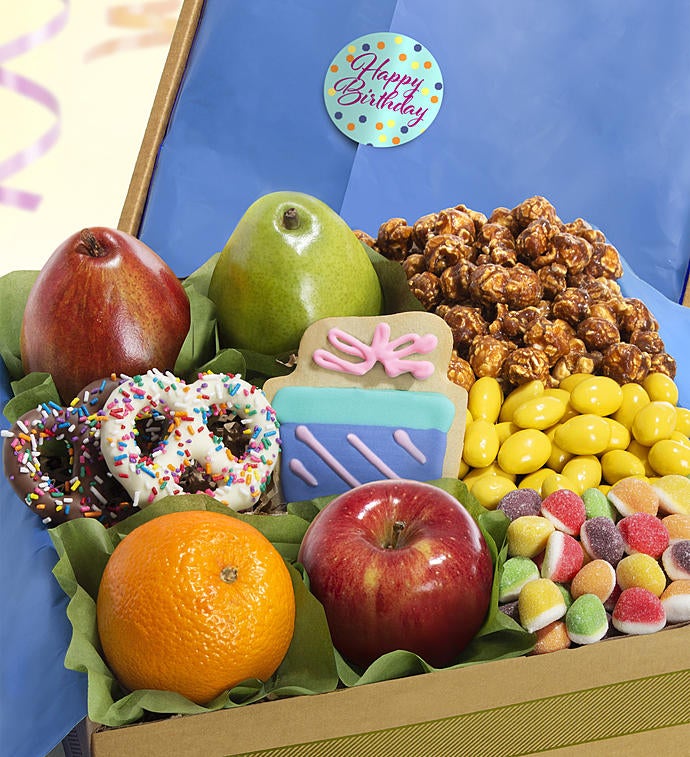 Happy Birthday Fruit & Sweets Box
D'Anjou Pear
Red Pear
Braeburn Apple
Navel Orange
Assorted Fruit Gummy Puffs
Lemon Creme Almonds,
Frosted Birthday Present Cookie
Caramel Popcorn
2 White and Dark Decorated Pretzels
Tissue lined box, wrapped over gift top with Happy Birthday sticker
Gift measures 11" x 11" x 4"
Say Happy Birthday deliciously with the perfect combination of sweets and healthy fruits. Delight a special someone with a Frosted Birthday Present Cookie, Assorted Fruit Gummy Puffs, Dipped & Decorated Pretzels, D'Anjou Pear, Braeburn Apple, Red Pear, Lemon-Creme Almonds and more. It'll make their day!
D'Anjou Pear
Red Pear
Braeburn Apple
Navel Orange
Assorted Fruit Gummy Puffs
Lemon Creme Almonds,
Frosted Birthday Present Cookie
Caramel Popcorn
2 White and Dark Decorated Pretzels
Tissue lined box, wrapped over gift top with Happy Birthday sticker
Gift measures 11" x 11" x 4"