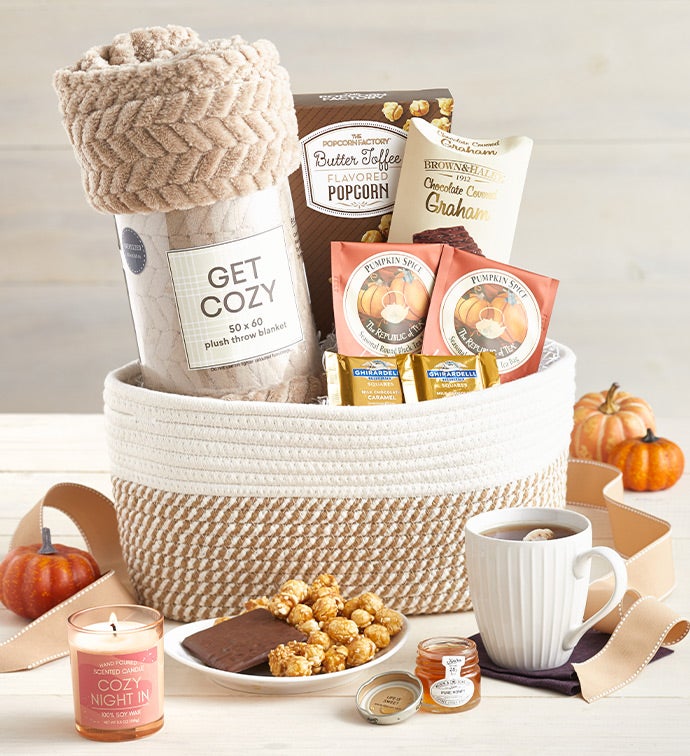 Ceramic Mug
Textured Plush Throw Blanket in Taupe
3.5 oz. "Cozy Night In" Sweet Pumpkin Scented Candle
0.112 oz. The Republic of Tea® Pumpkin Spice
1 oz. Tiptree Mini Pure Honey Jar
1.5 oz. The Popcorn Factory® Butter Toffee Popcorn
1.06 oz. Ghirardelli® Squares® Milk Chocolate Caramel
0.7 oz. Brown & Haley® Milk Chocolate Graham Cracker
Measures 12"L x 6.25"L x 14.75"H
This great gift makes chilly fall days warm and comfy. Get toasty under the plush throw blanket, light the fall-scented candle, brew up some pumpkin spice tea, and enjoy a cup in your new ceramic mug. There are also milk chocolate caramels, butter toffee popcorn, and a milk chocolate graham cracker to snack on. This gift has all the elements for both a cozy movie night alone and a fun fireside chat with a friend.
Ceramic Mug
Textured Plush Throw Blanket in Taupe
3.5 oz. "Cozy Night In" Sweet Pumpkin Scented Candle
0.112 oz. The Republic of Tea® Pumpkin Spice
1 oz. Tiptree Mini Pure Honey Jar
1.5 oz. The Popcorn Factory® Butter Toffee Popcorn
1.06 oz. Ghirardelli® Squares® Milk Chocolate Caramel
0.7 oz. Brown & Haley® Milk Chocolate Graham Cracker
Measures 12"L x 6.25"L x 14.75"H