Pacific Northwest Fruit & Gourmet Gift Basket
Pacific Northwest Fruit & Gourmet Gift Basket
We're sorry, this product is not available. Please shop our top trending products that customers like you have chosen to connect, express and celebrate.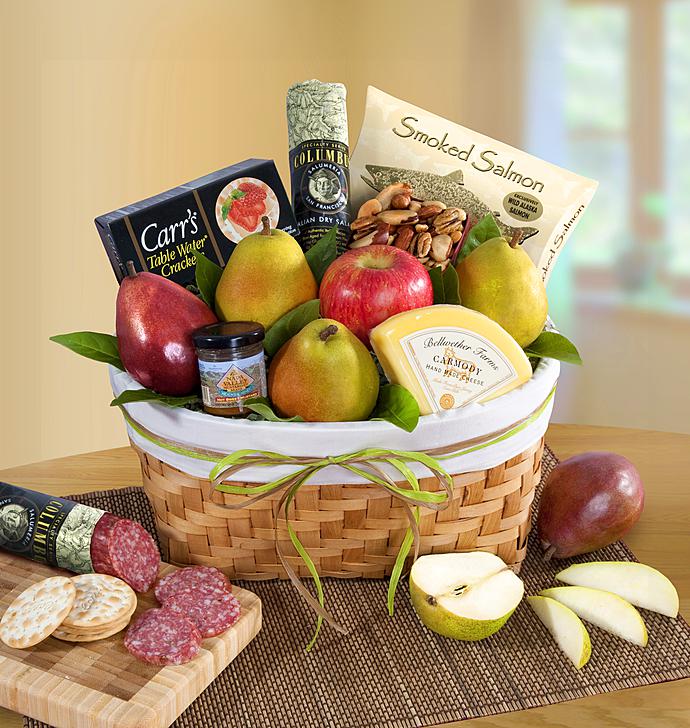 Product Details
:
1009-P-96096
Savory Pacific Northwest Smoked Salmon. Handmade artisan cheese. Send this gorgeous, lined woven wood gift basket that's filled with freshly harvested pears and crisp juicy apples, handmade artisan cheese from Bellwether Farms®, Carr's® Water Crackers, roasted and salted mixed nuts and much more. It's decadent, and delightfully easy to share and comes from the fertile orchards along the River Deltas of Northern California's Sacramento Valley, so you know it will always be orchard-fresh, ripe and ready to eat.
Arrives tied with a tasteful gift ribbon
Real woven wood slat gift basket
Savory Columbus® Italian Dry Salame
Bellwether Farms® Carmody Cheese
Smoked Wild Salmon
Carr's® Water Crackers
Roasted & Salted Mixed Nuts
Napa Valley Mustard Company Hot Sweet Mustard
Ripe Comice Pears
Crisp Fuji Apple
Later, the basket makes great storage for their favorite bedside books!
Weighs an impressive 6lbs 10oz
Measures 15"Hx10"Wx10"L
Shipping Information: Our fruit baskets are packed to order on the day that they are shipped to ensure maximum freshness. To protect the quality of the fruit, we also pack cushioning straw around each fruit piece which requires packing the gift lower in the basket than shown on the web.