Winter Artisan Iced Cookies
Winter Artisan Iced Cookies
We're sorry, this product is not available. Please shop our top trending products that customers like you have chosen to connect, express and celebrate.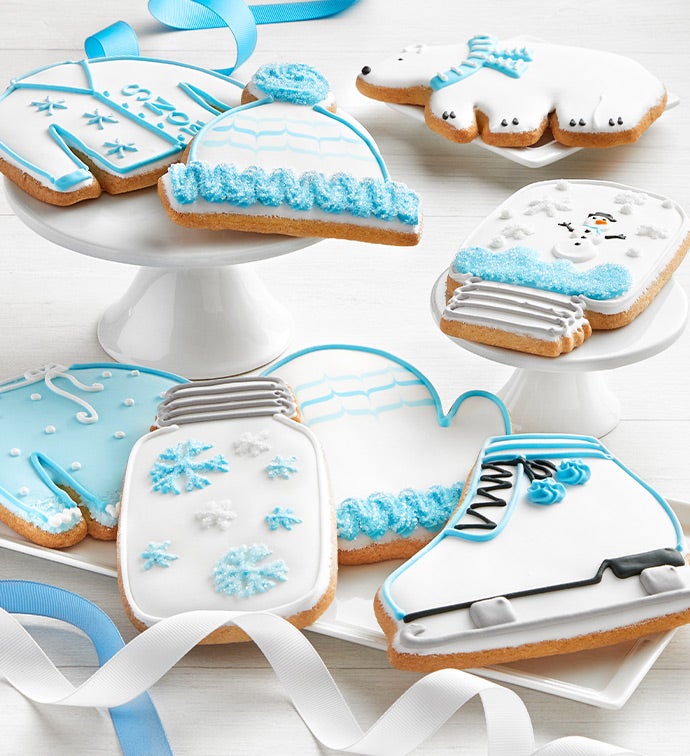 Product Details
:
1009-P-41420
The eight count includes:
"skate", "hat", "mitten", "thermos", "sweater", "snowman scene", "cardigan" and "polar bear". Georgetown Cupcake's North Pole Dozen includes 12 different festive flavors:
– 1 White Chocolate Peppermint Cheesecake, 1 Mrs. Claus' Cocoa cupcake, 1 Reindeer Munch Crunch cupcake with a fondant Santa Silhouette, 1 Gingerbread cupcake, 1 Santa's Chocolate Chip cupcake with "Ho! Ho! Ho!" fondant, 1 Snowy Vanilla & Buttercream cupcake with a fondant North Pole sign, 1 Christmas Caramel cupcake, 1 White Chocolate Peppermint cupcake, 1 Christmas Cookie cupcake, 1 Peppermint Cookies & Crème cupcake, 1 Rudolph Red Velvet cupcake, and 1Chocolate Peppermint cupcake. Note: This dozen contains a Christmas Cookie cupcake which is baked with a pure almond nut extract.
21 oz. Total Net Weight for 8 count cookies
Dimensions: 11" x 9" x 3.5"
OR
The five count includes:
"skate", "hat", "mitten", "thermos" and "sweater".
13oz. Total Net Weight,
Dimensions: 4.25" x 8.25" inner cookie packaging