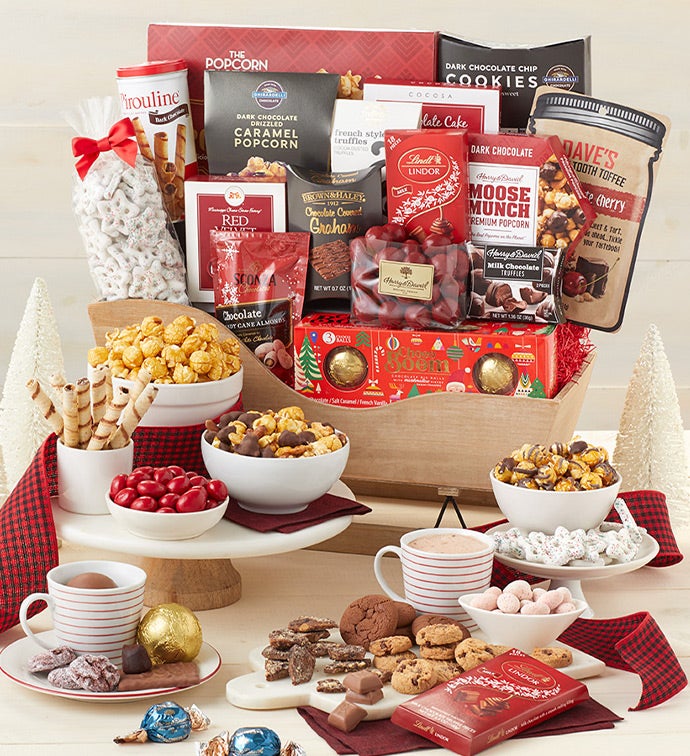 1.36 oz. Harry & David® Milk Chocolate Truffles
2 oz. Ghirardelli® Chocolate Drizzle Popcorn
2.5 oz. Harry & David® Moose Munch® Dark Chocolate Popcorn Mix
0.7 oz. Brown & Haley® Milk Chocolate Covered Graham Cracker
6 oz. Harry & David® Milk Chocolate Covered Cherries
1 oz. Mississippi Cheese Straw Factory® Red Velvet Cookie Straws
3 ct Hot Cocoa Bombs with Marshmallow Pieces
3 oz. Ghirardelli® Chocolate Chip Cookies
2.82 oz. Sconza Chocolate Candy Cane Almonds
0.79 oz. Truffettes de France® Chocolate Truffles
12 oz. The Popcorn Factory® Caramel Popcorn
6 oz. Yogurt Covered Snowflake Pretzels with Red and Green Sugar
3.5 oz. Lindt Lindor® Milk Chocolate Truffle
3.25 oz. Debeuk Pirouline® Dark Chocolate Rolled Wafers
4 oz. Dave's Sweet Tooth Toffee Dark Chocolate Cherry
1.76 oz. Cocosa Chocolate Cake Cookies
Measures 19.5"L x 8.25"W x 18.125"H
Send a sweet season's greeting with this wooden sleigh full of rich, chocolaty treats. Included is a wide assortment of delights, such as Harry & David® milk chocolate truffles, Ghirardelli® chocolate chip cookies, Harry & David® chocolate-covered cherries, Debeuk Pirouline® dark chocolate rolled wafers, and many more gourmet goodies. Everything is topped with a charming bow and ready to impress the ones you love.
1.36 oz. Harry & David® Milk Chocolate Truffles
2 oz. Ghirardelli® Chocolate Drizzle Popcorn
2.5 oz. Harry & David® Moose Munch® Dark Chocolate Popcorn Mix
0.7 oz. Brown & Haley® Milk Chocolate Covered Graham Cracker
6 oz. Harry & David® Milk Chocolate Covered Cherries
1 oz. Mississippi Cheese Straw Factory® Red Velvet Cookie Straws
3 ct Hot Cocoa Bombs with Marshmallow Pieces
3 oz. Ghirardelli® Chocolate Chip Cookies
2.82 oz. Sconza Chocolate Candy Cane Almonds
0.79 oz. Truffettes de France® Chocolate Truffles
12 oz. The Popcorn Factory® Caramel Popcorn
6 oz. Yogurt Covered Snowflake Pretzels with Red and Green Sugar
3.5 oz. Lindt Lindor® Milk Chocolate Truffle
3.25 oz. Debeuk Pirouline® Dark Chocolate Rolled Wafers
4 oz. Dave's Sweet Tooth Toffee Dark Chocolate Cherry
1.76 oz. Cocosa Chocolate Cake Cookies
Measures 19.5"L x 8.25"W x 18.125"H