New Baby Girl Gift Basket Grand Essentials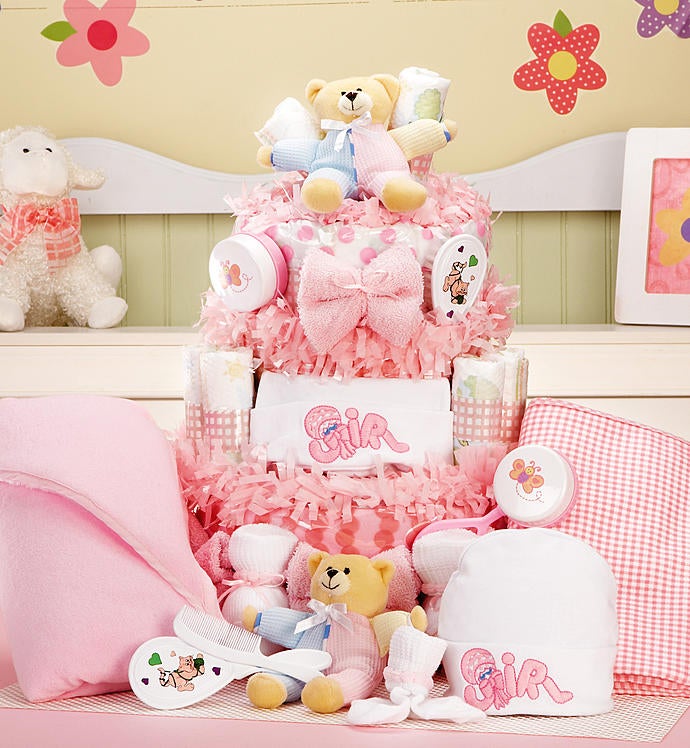 Grand Baby-Cakes Girl Essentials
Grand Baby Cake:
12 Size One Disposable Diapers Fitting Up To 14 lbs
1 Receiving Blanket
1 Cotton Hooded Terry Towel
1 Hat
1 Pair Socks
2 Washcloths
1 Comb
1 Plush Toy
1 Rubber Toy
Arrives As Pictured
Measures 15"H x 15"W x 19"L
A triple layer of baby girl gifts take the cake in newborn essentials. New parents will very much welcome this whimsical cake made of disposable diapers, a hooded terry towel, washcloths and many other everyday baby care necessities. "Frosted" in pink hues, the soft and cozy gifts are smartly stacked in a layer cake form and make a very sweet presentation.
Grand Baby Cake:
12 Size One Disposable Diapers Fitting Up To 14 lbs
1 Receiving Blanket
1 Cotton Hooded Terry Towel
1 Hat
1 Pair Socks
2 Washcloths
1 Comb
1 Plush Toy
1 Rubber Toy
Arrives As Pictured
Measures 15"H x 15"W x 19"L