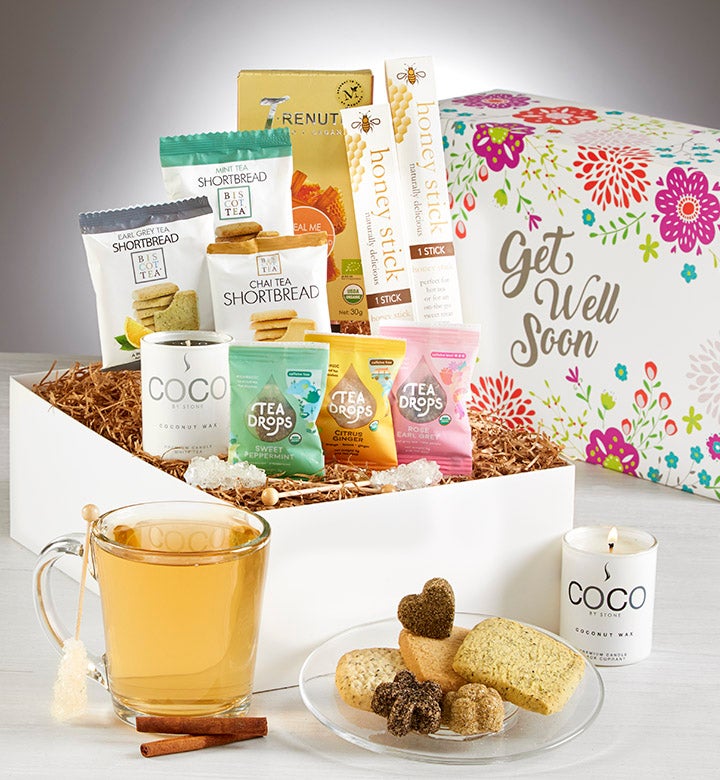 0.7 oz. Biscottea® Chai Tea Shortbread
0.7 oz. Biscottea® Earl Grey Tea Shortbread
0.7 oz. Biscottea® Traditional Teatime Shortbread
2 oz. Tiptree Mini Pure Honey Jar
0.7 oz. Rock Candy Swizzle Sticks
0.25 oz. Tea Drops® Citrus Ginger
0.317 oz. Tea Drops® Rose Earl Grey
0.18 oz. Tea Drops® Sweet Peppermint
Twinings® Lemon Delight Tea Box (20 count)
2.5 oz. White Tea Candle
Measures 12.25"L x 8.25"W x 4"H
Friends and family will enjoy a moment of relaxation at any point of the day with this relaxing gift filled with teas, goodies and a candle! With a wide selection of tea flavors worth sipping on including rose earl grey, sweet peppermint, citrus ginger and more! They'll also love nibbling on wonderful shortbread cookies in a variety of flavors that dunk and delight. Honey and rock candy will sweeten their tea in style. No stress with this gift, just pure relaxation for them to get well soon.
0.7 oz. Biscottea® Chai Tea Shortbread
0.7 oz. Biscottea® Earl Grey Tea Shortbread
0.7 oz. Biscottea® Traditional Teatime Shortbread
2 oz. Tiptree Mini Pure Honey Jar
0.7 oz. Rock Candy Swizzle Sticks
0.25 oz. Tea Drops® Citrus Ginger
0.317 oz. Tea Drops® Rose Earl Grey
0.18 oz. Tea Drops® Sweet Peppermint
Twinings® Lemon Delight Tea Box (20 count)
2.5 oz. White Tea Candle
Measures 12.25"L x 8.25"W x 4"H