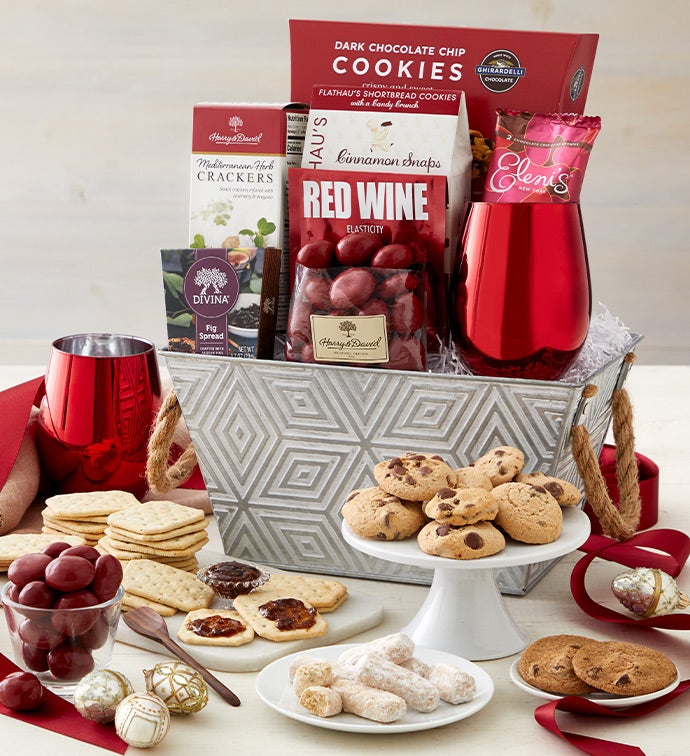 Red Wine Sheet Mask
Metallic Finish Glass Cup
6 oz. Harry & David® Milk Chocolate Covered Cherries
3 oz. Ghirardelli® Chocolate Chip Cookies
0.71 oz. Eleni's Chocolate Chip Crisp Cookies
0.7 oz. Fig Spread
3.5 oz. Harry & David® Mediterranean Herb Crackers
1.5 oz. Flathaus® Cinnamon Shortbread Cookie Straws
Measures 11.5"L x 6.25"W x 12.75"H
Treat someone to a little TLC with a beautifully embossed tin full of snacks, sweets, and more. Designed with wine lovers in mind, we've included a refreshing red wine sheet mask and a glass cup with a metallic finish for them to sip their favorite drinks out of. There are also plenty of goodies that pair deliciously with wine, including desserts like chocolate chip cookies and chocolate-covered cherries as well as gourmet fare like Mediterranean herb crackers and fig spread.
Red Wine Sheet Mask
Metallic Finish Glass Cup
6 oz. Harry & David® Milk Chocolate Covered Cherries
3 oz. Ghirardelli® Chocolate Chip Cookies
0.71 oz. Eleni's Chocolate Chip Crisp Cookies
0.7 oz. Fig Spread
3.5 oz. Harry & David® Mediterranean Herb Crackers
1.5 oz. Flathaus® Cinnamon Shortbread Cookie Straws
Measures 11.5"L x 6.25"W x 12.75"H