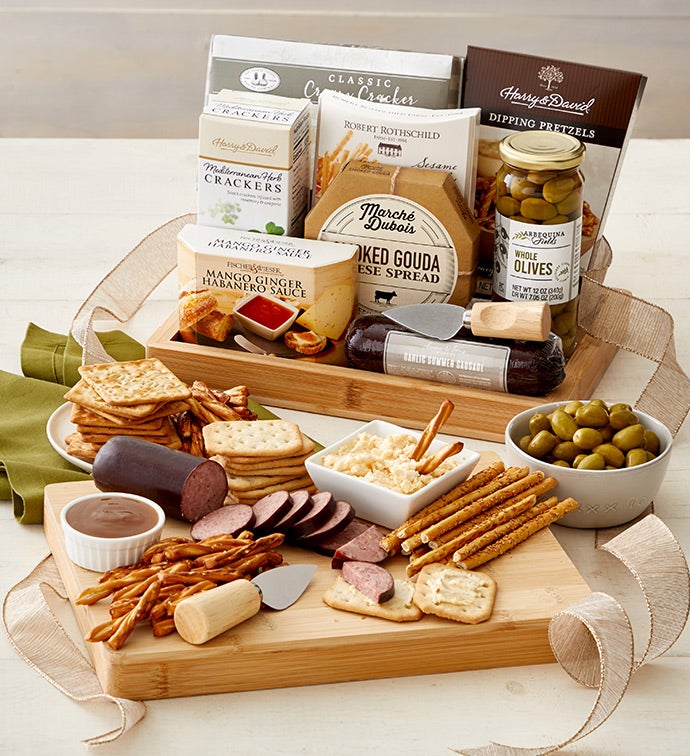 Bamboo Wood Serving Tray
Wood Handled Cheese Knife
1.41 oz. Robert Rothschild® Sesame Breadsticks
3 oz. Harry & David® Honey Wheat Dipping Pretzels
3 oz. Fischer & Weiser® Mango Ginger Habanero Sauce
7 oz. Lucca & Sons® Garlic Summer Sausage
12 oz. Arbequina Fields Whole Green Olives
12.35 oz. The Parker Sisters Classic Cream Crackers
3.5 oz. Harry & David® Mediterranean Herb Crackers
3.5 oz. Marche Dubois Smoked Gouda Cheese Spread
Measures 12.125"L x 9.125"W x 7.75"H
Get ready to snack your way to a good time as this appetizing assortment has everything you'll need for an on-the-spot charcuterie spread or a portable picnic. It starts with the savory tandem of Lucca & Sons® summer sausage and a smoked gouda cheese spread. Add some crunch with breadsticks, Mediterranean herb crackers, and honey wheat dipping pretzels, then layer on the flavor with whole green olives and a sweet and peppery mango ginger habanero sauce. All these goodies are accompanied by a bamboo cutting board with a wood-handled cheese knife for stylish serving. This would be a great gift to have on hand in case unexpected guests stop by and a tasty way to start the holiday party.
Bamboo Wood Serving Tray
Wood Handled Cheese Knife
1.41 oz. Robert Rothschild® Sesame Breadsticks
3 oz. Harry & David® Honey Wheat Dipping Pretzels
3 oz. Fischer & Weiser® Mango Ginger Habanero Sauce
7 oz. Lucca & Sons® Garlic Summer Sausage
12 oz. Arbequina Fields Whole Green Olives
12.35 oz. The Parker Sisters Classic Cream Crackers
3.5 oz. Harry & David® Mediterranean Herb Crackers
3.5 oz. Marche Dubois Smoked Gouda Cheese Spread
Measures 12.125"L x 9.125"W x 7.75"H