SPOTS NYC Thank You Candy Gift Box
SPOTS NYC Thank You Candy Gift Box
We're sorry, this product is not available. Please shop our top trending products that customers like you have chosen to connect, express and celebrate.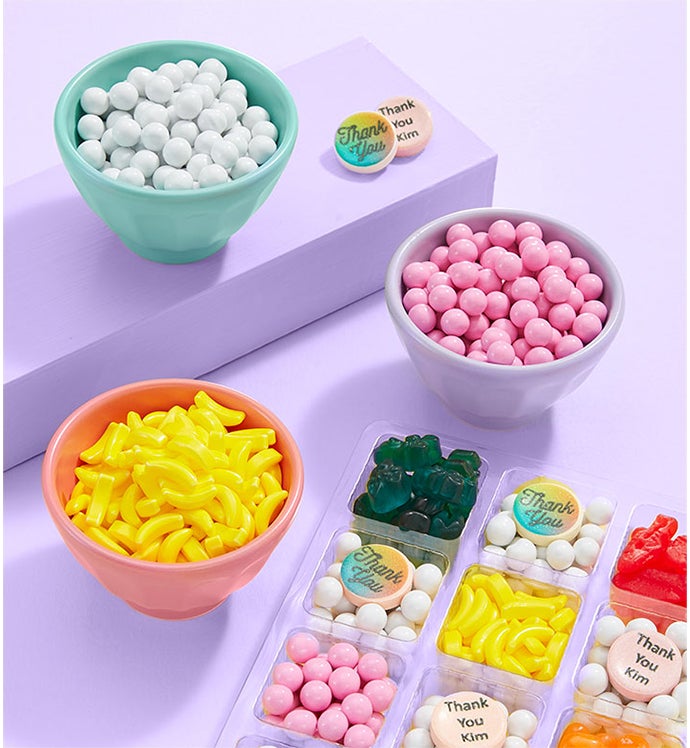 Product Details
:
1009-P-172997
Warning – Sweetness Overload! This is the ultimate gift for the candy lover in your life. If you're looking for a sweet, fun, personalized gift for a special someone, we have you covered with SPOTS NYC Candy Gift Box! Add your own personalized text along with our clip art or just select our clip art option.
Customization Text (for clip art and personalized text option):
Line 1: 5 characters max (no special characters or symbols allowed)
Line 2: 8 characters max (no special characters or symbols allowed) Product Details:

The Candy Gift Box will include the following sweets: Orange Jelly Beans, Concord Bananarama, White Sixlets, Green Jelly Beans, Light Pink Sixlets, Blue Raspberry Gummi Bears, Swedish Fish, Mega Smarties Comes with 6 compartments of non-branded candy and 6 compartments of personalized Mega Smarties All images are 100% safe to eat Candy Gift Box are Gluten Free Candy Gift Box do not contain any nuts or nut oils, however, they are fulfilled in a kitchen where nut ingredients are used.
Dimensions: 5 15/16" x 1" x 7 3/4"