Simply Chocolate Deluxe Autumn Basket
Simply Chocolate Deluxe Autumn Basket
We're sorry, this product is not available. Please shop our top trending products that customers like you have chosen to connect, express and celebrate.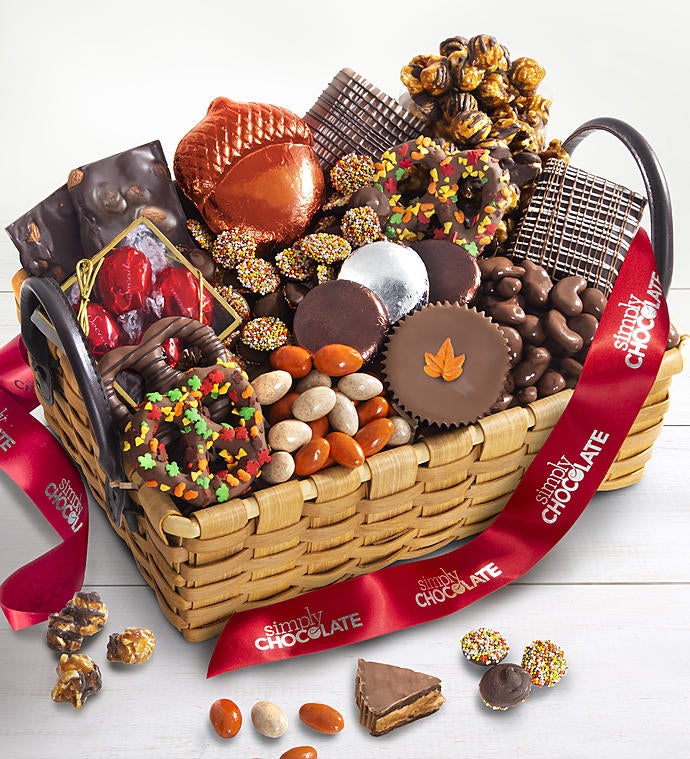 Product Details
:
1025-P-163911
Wood Slat Basket with Faux Leather Handles
5 oz. Dark Chocolate Sea Salt Caramel Corn
3 Assorted Fall Decorated Chocolate Pretzels
3 Foil Wrapped Milk Chocolate Covered OREO Cookies
3 oz. Fall Dark Chocolate Nonpareil Chocolate Drops
3 oz. Dark Chocolate Almond Bark
3 oz. Chocolate Covered Toffee Sea Salt Cashews
3 oz. Pumpkin Pie Almonds
2 Chocolate Covered Graham Crackers with Gingham Design
4 oz. Fall Leaf Decorated Gourmet Milk Chocolate Peanut Butter Cup
6 oz. Foil Wrapped Acorn Shaped Milk Chocolate
4pc Hazelnut Truffles
Gift measures 9" x 8.5" x 6"